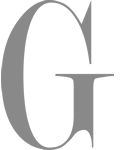 uy de Maupassant in La Vie errante, 1885, writes:
"If somebody might pass one day only in Sicily and asked: "What should I visit?" I would answer without hesitate: "Taormina". It is only a landscape, but a landscape in which you can find all that seems to be created on earth to seduce the eyes, mind and fantasy. Where are the peoples who could make, today, things like these? Where are the men able in building, for the crowd pleasure, works like these?
Those men, the ones of a time, had soul and eyes different from the ours; in their veins, with blood, flowed something lost: love and cult for Beauty."